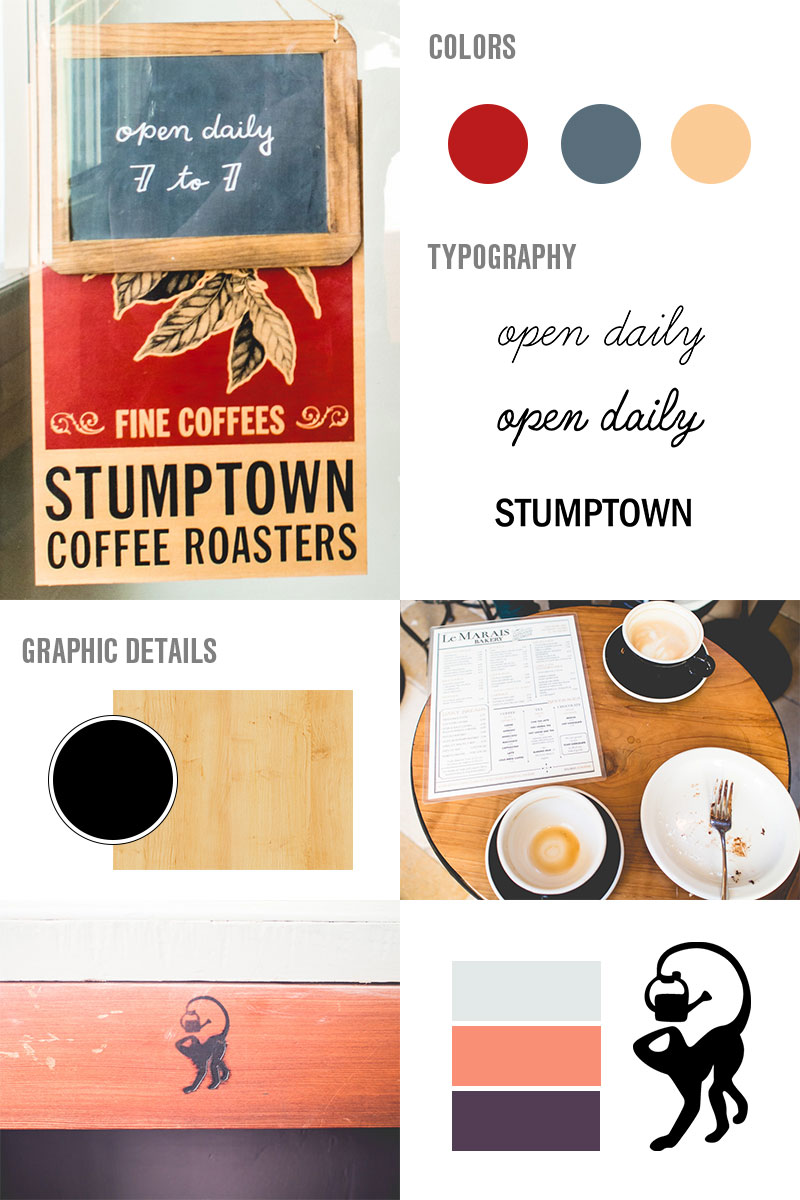 Okay, so being inspired by a French-themed café isn't an incredible stretch for me. I've been in love with the country, its language, and its culture since I was fourteen. And yet, no matter how many chalkboard signs and simple black-and-white graphic details I encounter in these cozy, incredible-smelling establishments, I never fail to snap away with my camera, anxious to preserve these visual tokens of a treasured time and place.
And just as well, as these photos I took of signage, dishware, and decorative touches at Le Marais Café, located in the Marina neighborhood of San Francisco, have supplied me with just the material I needed to kick off this new post series entitled "Design Deconstructed."
A couple notes about the series, then I'll jump into the real meat of this post:
It's just as it sounds–I'm deconstructing design by taking sources of visual inspiration and highlighting or digitally replicating the precise elements (color stories, typography, graphic details, etc.) that could be applied to design projects. I'm a total fan of Instagram-ing, Pinterest-ing, and blogging straight up snapshots of inspiring things (and indeed, I do and will continue to do all of those things), but I've been feeling the need to go further, to push myself and my design skills further, to create something possibly useful for my design-minded readers, by turning "being inspired" into an action, not just a state of being. And so the idea for this series was conceived.
So without further ado, here's my first attempt at sharing a crucial part of my creative process: taking inspiration from idea to prototype.
The Inspiration:
Le Marais Café, San Francisco
What I love about it:
Colors: I'm digging the vintage, muted, 40's France color scheme on the door signage. I've fondly named the three main colors Rouge, Slate Blue, and Blondewood. The Black and White on the cups and saucers are also worth mentioning, since they bring such an understated yet distinctly French feel to the shop (Chanel branding is a great example of this). There's also a less intentional color trio of Milky Blue, Peach Meringue, and Eggplant Espresso (yes, I also had fun with these names) to be found on the benches, which only occurred to me after I had taken the photo of the monkey graphic.
Typography: Two type styles to highlight here: the handwritten yet neat cursive on the chalkboard and the bolder, blockier letters on the poster. For the first style, I've found two typefaces that, while not exactly matching the original inspiration, provide that same look and feel of carefully written schoolhouse script: the first is called Learning Curve, by BV Fonts; the second is Quimby Mayoral by Chank Co. I think the latter, which is a bit smudgier and less refined, would look great in the digital world as white chalk lettering against a slate gray, green, or blue background. For the second style, I didn't have to do much digging as I knew almost immediately that one of my favorite titling sans-serifs, Franklin Gothic by URW++, would fit the bill. I've shown it here in its Condensed font.
Graphic Details: I like how the stark, clean lines created by the Black and White contrast of the cups and saucers are set against a warm backdrop of natural wood. The tile-able pattern shown here is called "Purty Wood" and can be downloaded for free from Subtle Patterns. And of course, let's not forget the adorable monkey-holding-a-kettle-by-its-tail icon stamped/carved into the bench wood. Little touches like this really add to the café's unique charm.
And so there you have it! My first design inspiration round-up. Hope you enjoyed the eye candy and found the resources useful!