Since it's Friday and close enough to the weekend, I figured it shouldn't be so painful to reminisce about last weekend at this point. If I had lingered over these photos from our trip to Healdsburg (about an hour north of Napa, and about two hours from us in San Francisco) on Tuesday, Daydream Land would've prevented me from getting any work done.
With the Easter holiday almost upon us, we made sure to visit at least a few wineries on Saturday. And of course, I paid more attention to the pretty red rose trellises, sun-drenched vines, apple blossoms and oak trees, as well as some artful tire marks. (Although, it is worth mentioning one particular wine, the "1776" from De La Montanya, sporting a whopping 17.76% alcohol level. Yep, we're gonna party with that one.)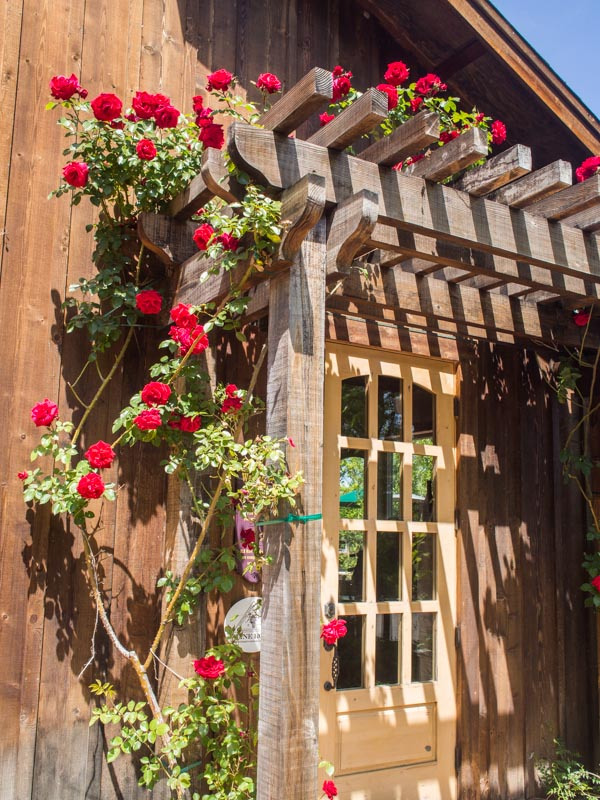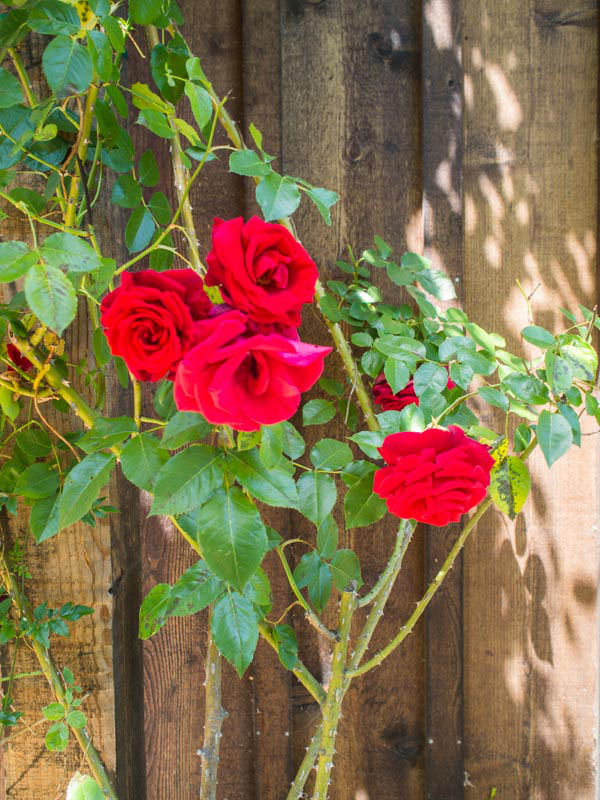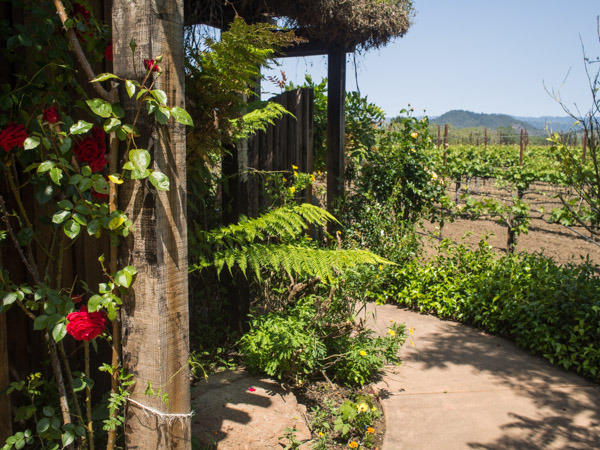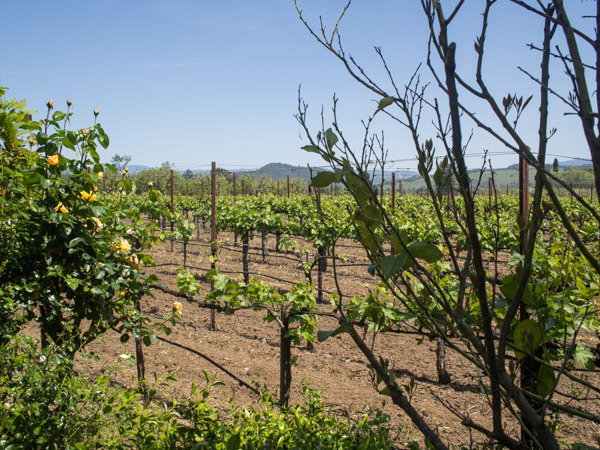 We found a few more wineries to taste at; one had an irresistible flower patch I just had to get friendly with: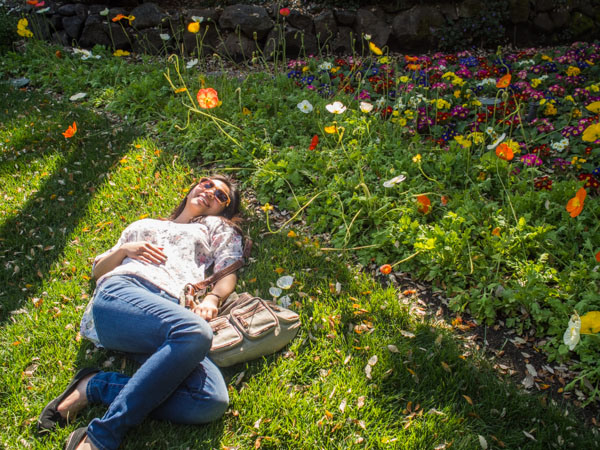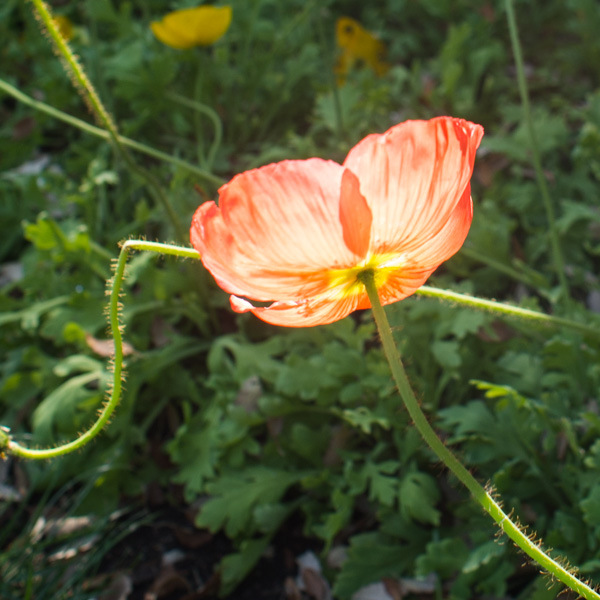 We were AirBnB-ing it for the weekend, so we checked in with our hosts Donn and Danya in the late afternoon. They live in Windsor, which is just a 15-minute drive from Healdsburg proper and just as accessible to all the glory of wine country. They greeted us warmly and invited us out to the patio, where wine, cheese and fruit awaited and cats roamed…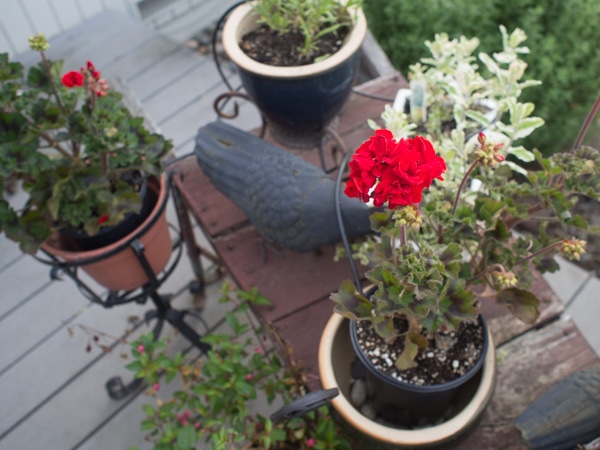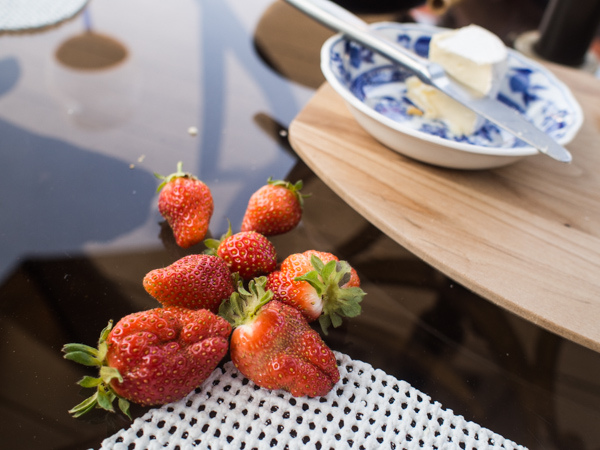 This guy did not look pleased to see us…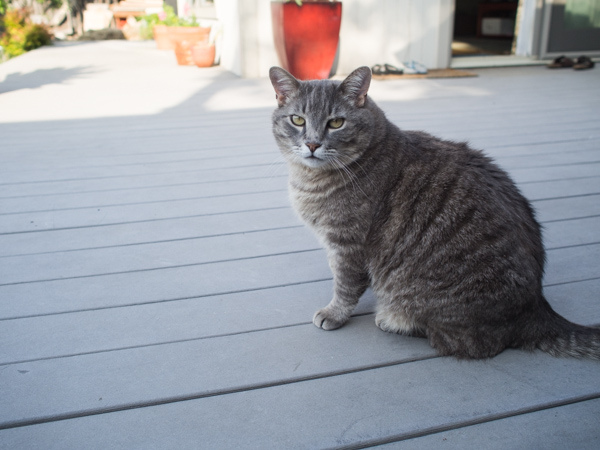 …until he decided we could be lured into a belly rub.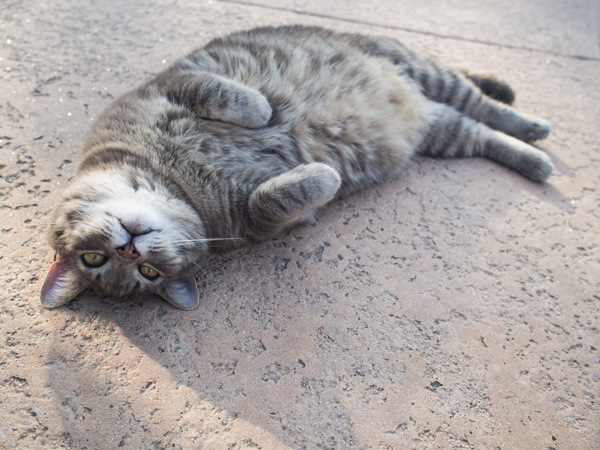 This one still didn't think humans were all that.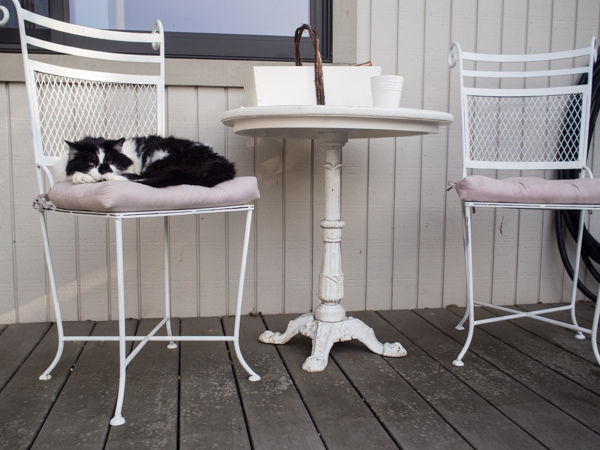 Donn and Danya tend to a lively backyard filled with flowers, vegetable plots, and chickens!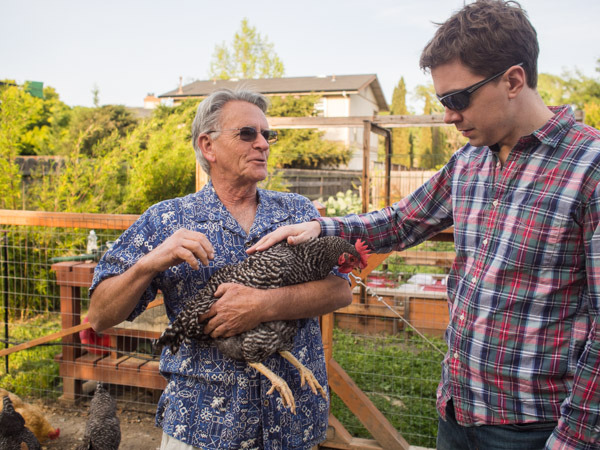 We knew what we were having for breakfast the next day…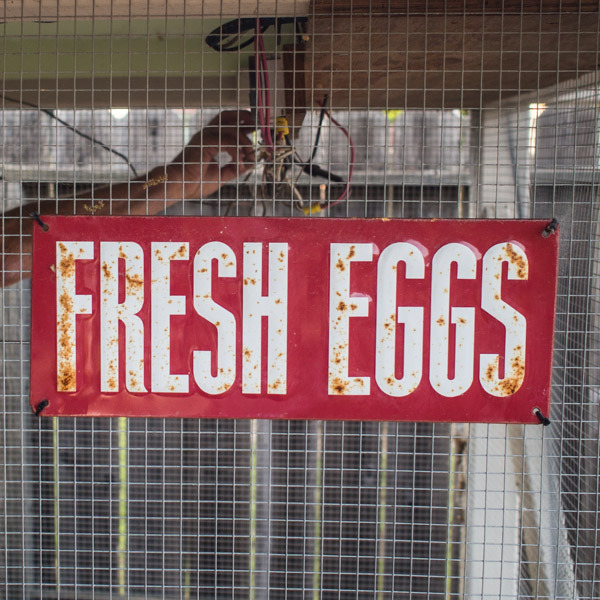 But before that, we had dinner reservations to catch. I simply must share this blurry picture of the best braised chicken dish I have ever tasted. It's called "Nonna's Tomato-Braised Chicken" and may be found at Scopa Italian Restaurant in downtown Healdsburg (thanks for the tip, WSJ!).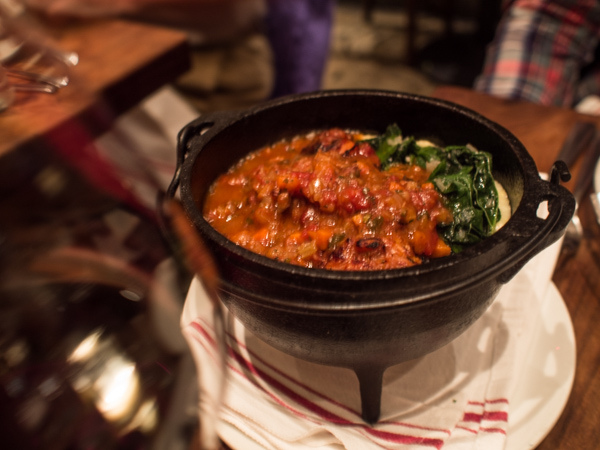 We also had some amazing grilled calamari and a stupendous Salsiccia pizza before and after this course (okay, and some pistachio gelato after everything) and everything was excellent. That meal plus even more vino pretty much knocked us out good later that night.
On Sunday we woke up feeling relaxed and refreshed. We made our way into the kitchen in the late morning, enjoyed some coffee with our hosts, and soon enough got to dig into the much anticipated farm fresh eggs, poached to perfection.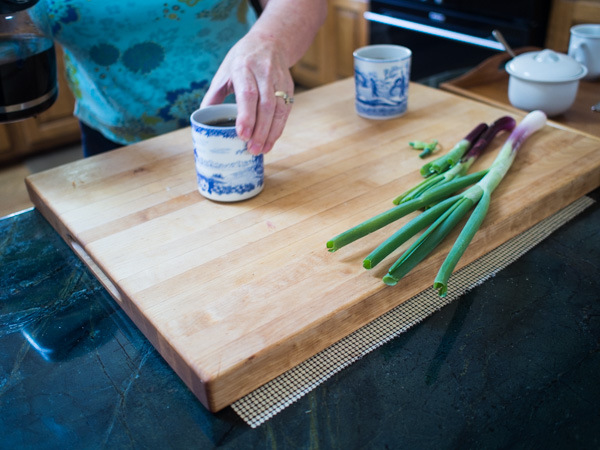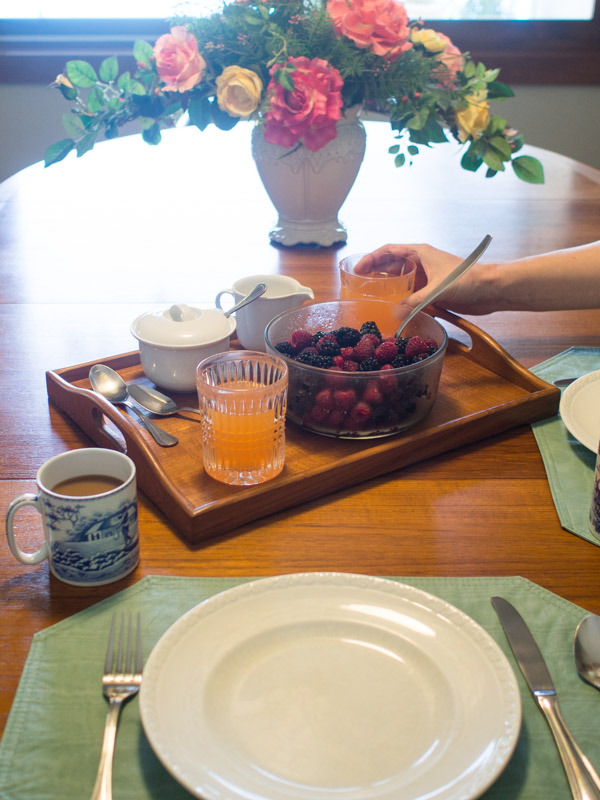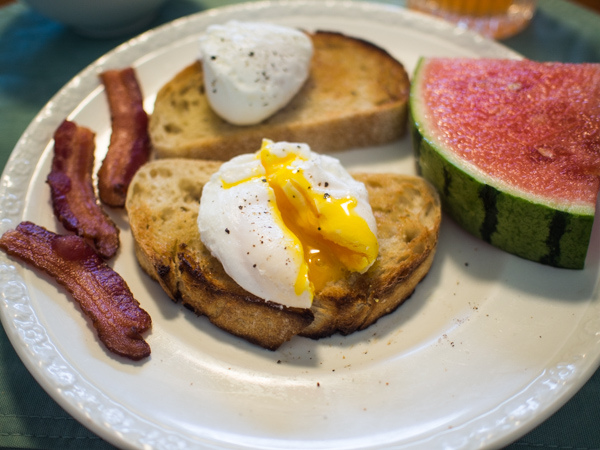 After all that goodness, we lingered over more coffee, chatted about nearby wineries, blood alcohol meters and vintage canning jars. I snapped a few more pics of Donn and Danya's lovely home and then it was time to leave.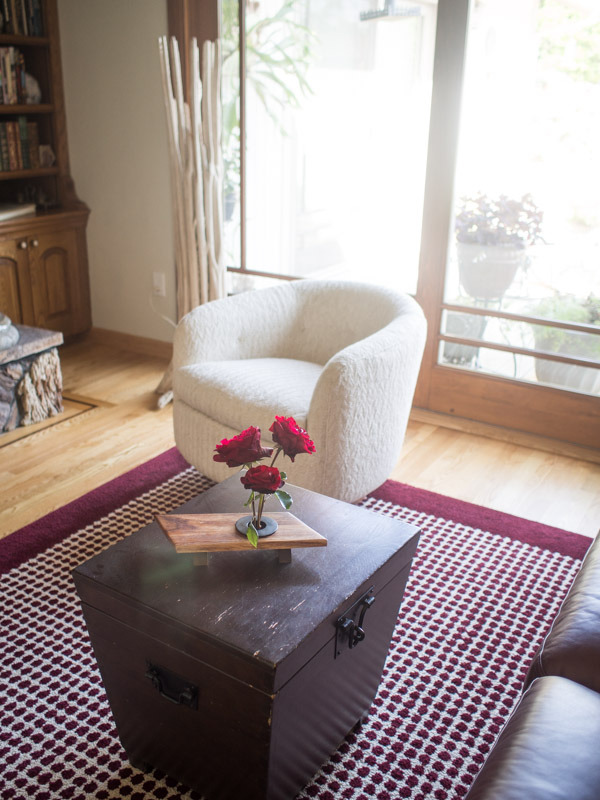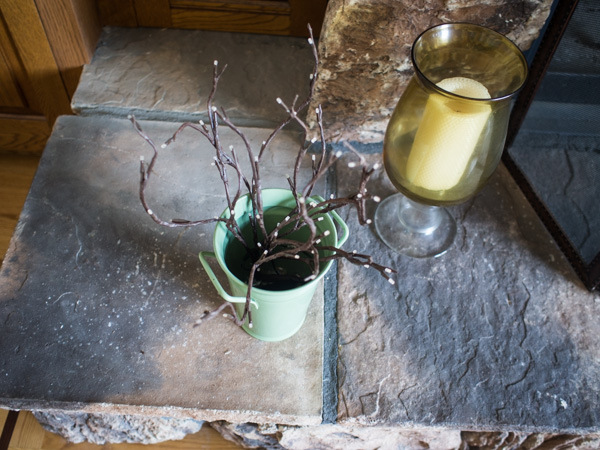 Books! Books! Marvelous books with awesome covers!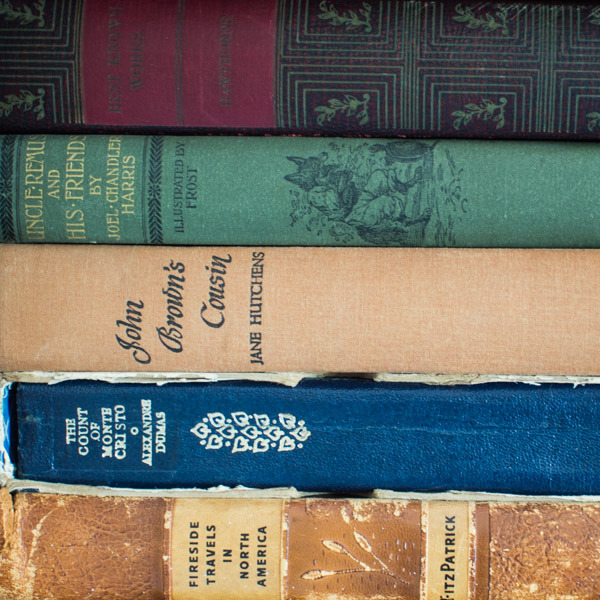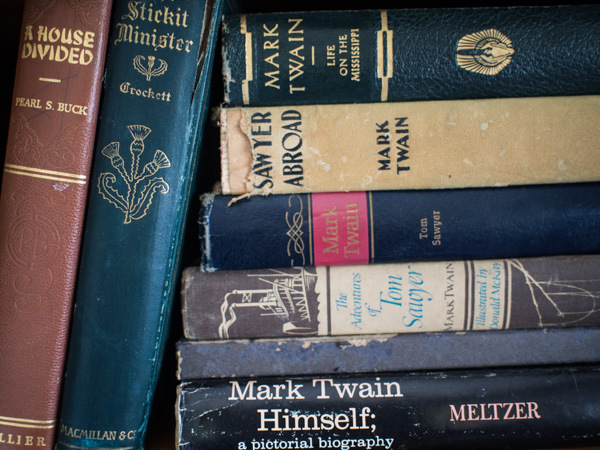 Onward we headed into Healdsburg proper to roam around downtown, which we hadn't yet been able to explore in the daylight. I had only two "must-do's" for the weekend, and both involved food. One was dinner at the much raved-about Scopa, which was indeed rave-worthy, and the other was sticky buns at Downtown Bakery. But alas, we didn't quite make it there. We had parked too close to Costeaux Bakery and its sweet French delights.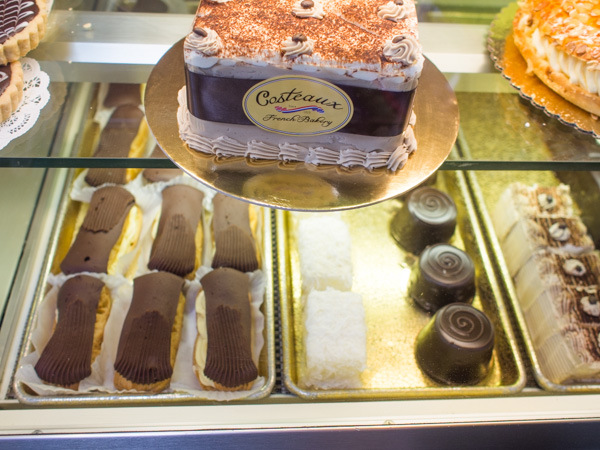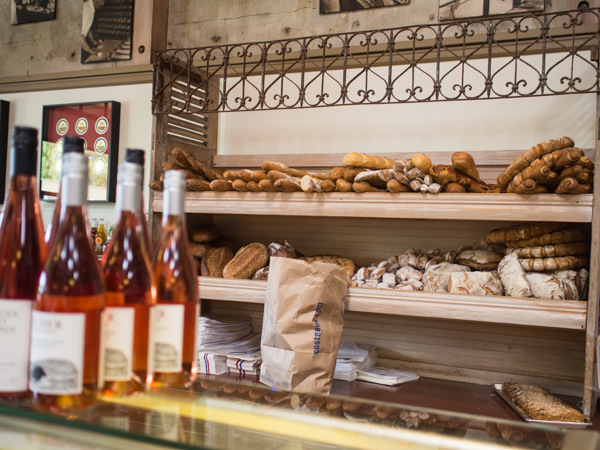 Aside from the enticing pastry spread, the rustic and hand-crafted touches really drew me in…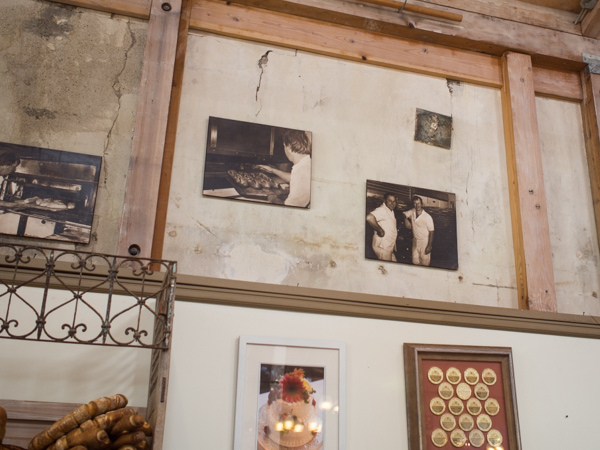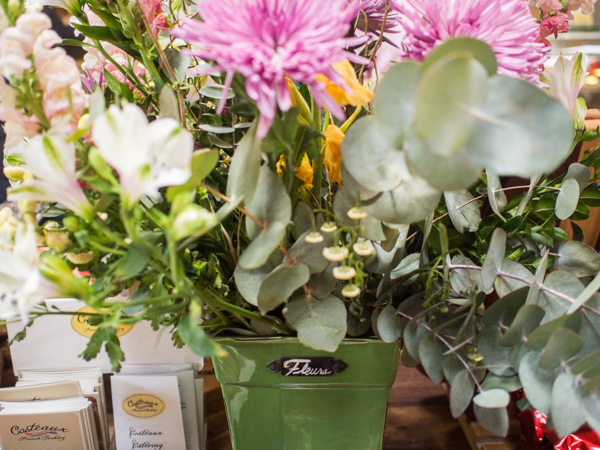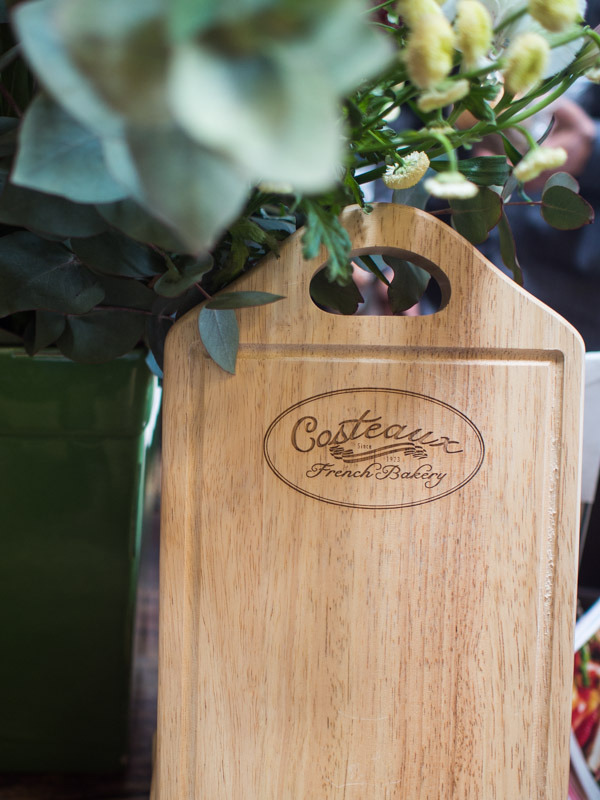 …which in fact became the theme of our amble about town. So much lettering and design inspiration!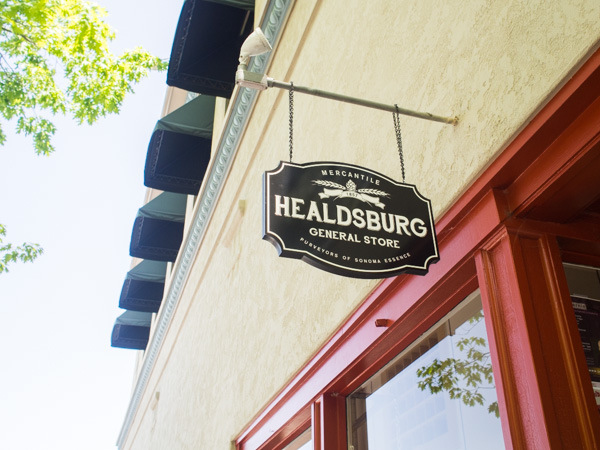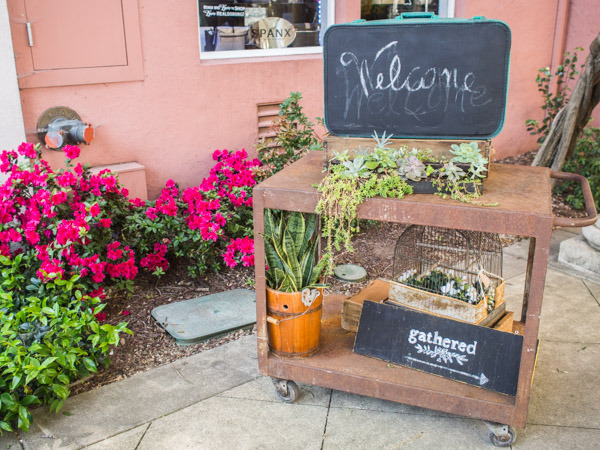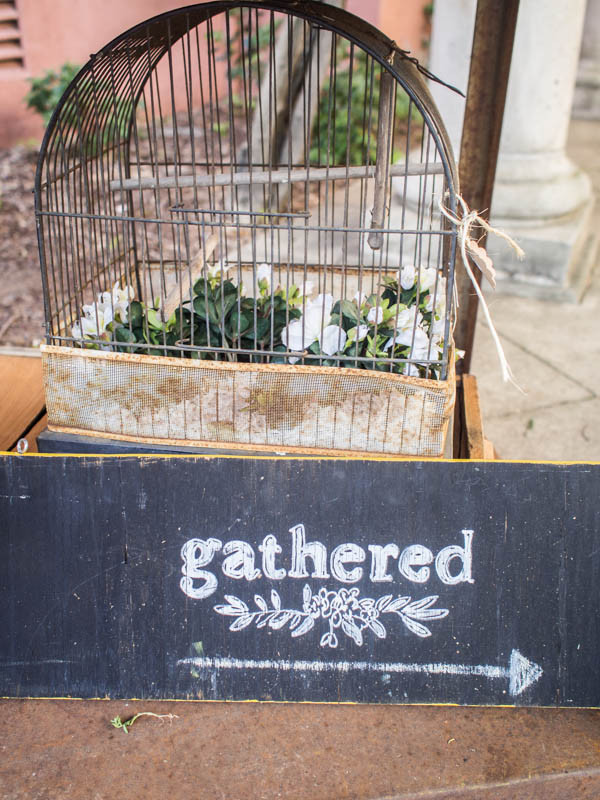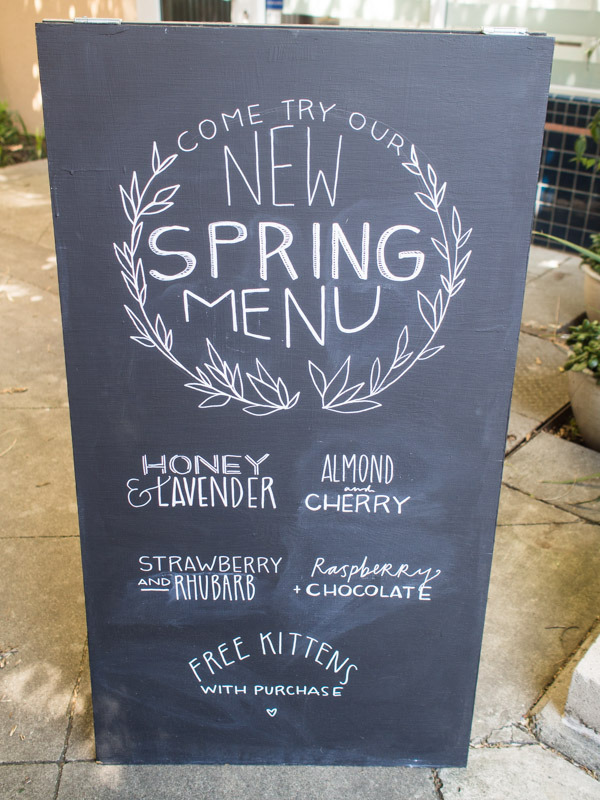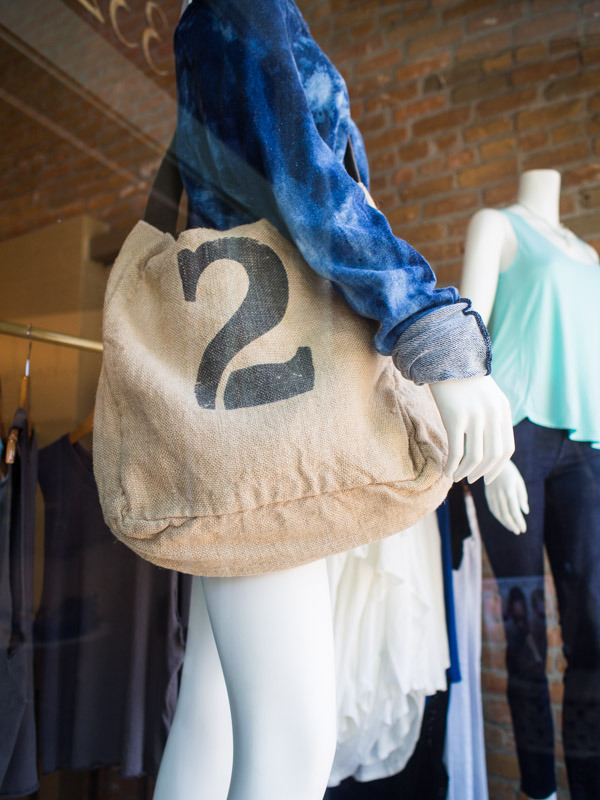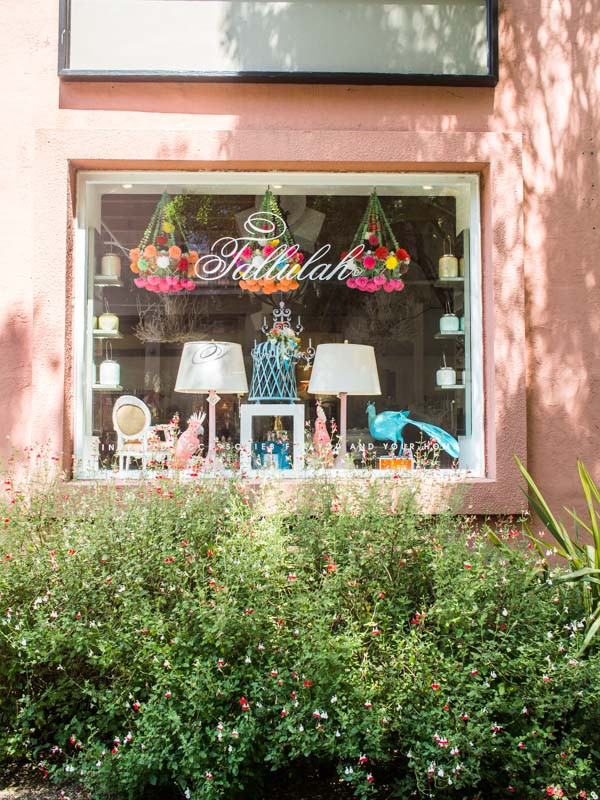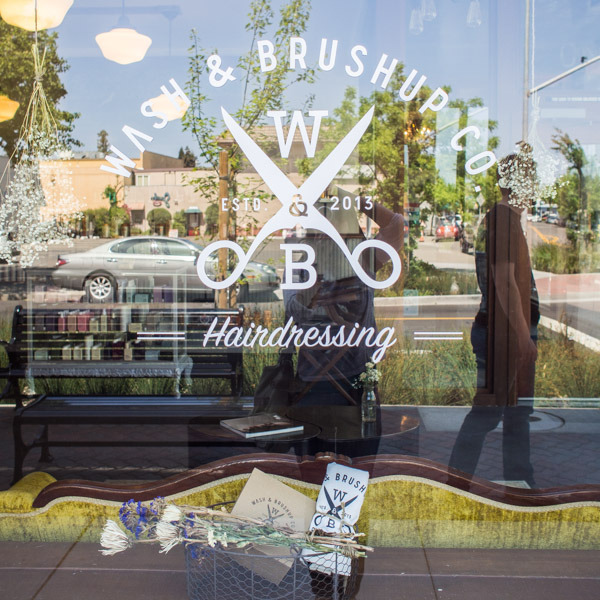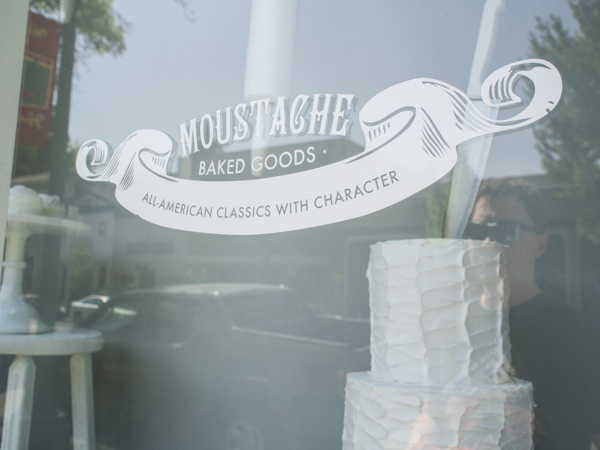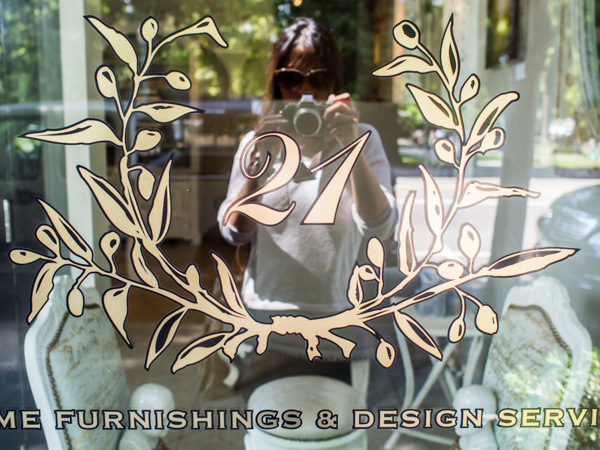 We set off to visit more wineries, got turned around too many times on a windy dirt backroad on what we thought was the way to Medlock Ames (still a beautiful drive though), and eventually made it to De Loach Winery. And there, we savored the last tasting of the weekend and took some glasses of chilled chardonnay to sip on the patio.