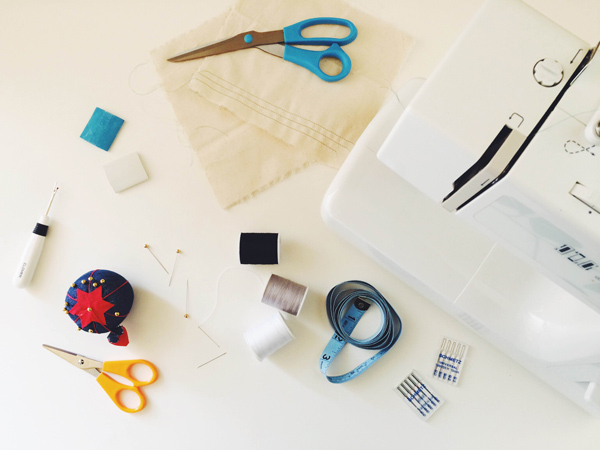 I have officially been bitten by the Sewing Bug.
I've always been fascinated by people who can whip up a Halloween costume for their kids (or Bay to Breakers) or even just hem and repair their own clothing. I've also always felt a little twinge of longing because I actually kind of come from a sewing family: my grandparents were both dressmakers (who raised seven kids in their joint tailoring shop/warehouse), while my aunt is now currently about 30 years into operating her own shop.
Over the years I've had minor brushes with the Sewing Bug, but I always swatted it away, glued to my school books or, later, my camera. First attempts at using a sewing machine in the fifth grade left me in tears—this is kind of embarrassing but I was deathly afraid of the needle, bobbing up and down so quickly and seemingly out of control. The Home Ec teacher made us memorize boring things like the parts of the sewing machine and spent little time doing one-on-one check-ins. I would look all around me and everyone was already busy making progress on their projects.
Bookish me had yet to realize the potential I had in my hands (which I've only discovered as recently as a year ago, when I took my first online calligraphy class), and I was just paralyzed. Weirdly enough, my mom never kept a sewing machine in the house—a basic hand-sewing kit was all she ever needed for small clothing repairs. My mother's own artistic abilities lay more in the kitchen (and boy is she a talented cook), so there was a little bit of a break in the family sewing chain there.
It wasn't until college that I started feeling the call of fabric. Yes, Project Runway was also in its heyday at this time. I was tired of overpriced college town apparel and vowed to just make my own. How hard could it be? I am now gently patting my past self on the head as I see her walk into her first adult sewing class with a brand spanking new Viking and a pattern for a tailored blazer, thinking I was going to have an entire new wardrobe in a month. Pat, pat, pat. Ah, so little you knew.
Unsurprisingly, that plan didn't quite pan out, and I still have those carefully cut-out, partially-sewn pieces of dark blue twill sitting in a bag under my bed, not entirely forgotten but also more like documentary relics at this point. But it's okay. Because I'm starting anew.
A few months ago I rescued my sewing machine from imminent eBay-ing, had it stare at me for a while from under my desk, and then Mother's Day loomed and I was suddenly in actual need of it for a crafty gift I had in mind. So last week, I decided to just have a go at it. What was the worst that could happen? Both machine and I were rusty (oh my lord, how does one wind a bobbin?), but I just YouTube-d like crazy and went to town on some muslin scraps I had lying around (I had picked some up in a premonitory moment on a trip to the fabric store for a hand-sewing project–yeah, those, I have no fear of). No person ever was happier for having sewn a straight stitch.
This time around, I gunned not for a fitted blazer but an uber simple infinity scarf. If you are in need of a quick but cute and oh so lovingly handmade Mother's Day gift to tackle this weekend (I know, I know, I'm a last-minute gifter too!), check out this tutorial. There's a few different ways of making an infinity scarf floating around out there, but this one was crystal clear and so easy to follow.
As you can see from the images below, I personally opted for a floral, lightweight chiffon (yeah…I still somehow managed to find a way to make a beginner's project more difficult) which I thought would suit the special momma I was making it for much better than the heavier cotton used in the video. A few things I learned for working with chiffon: if you just need to cut a wide strip for a scarf (not using a pattern), rip don't cut. You literally just snip a little bit into your cut line with your shears, grasp either side, and give a firm tug to start the rip.
I knew the lady at the fabric store had ripped all the fabric I bought, but I wasn't paying super close attention so when it came time for me to dig into the chiffon, I could not get it to rip at all my first try. I frantically Googled around but only found instructions on how to repair rips in chiffon. But seriously. You just need determination and not be afraid that you're going to "ruin" the fabric. Or maybe I'm just an abnormally gentle tugger and I need to get over that. Also, I used a zig-zag stitch (instead of a straight stitch), which I learned was better for stretchy fabrics like chiffon (less chance of snagging).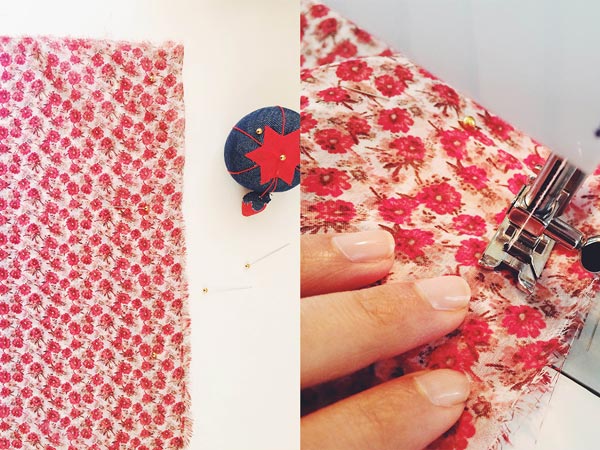 Anyway, I made it through, and here she is, tied off with a springtime green bow for official gift-giving: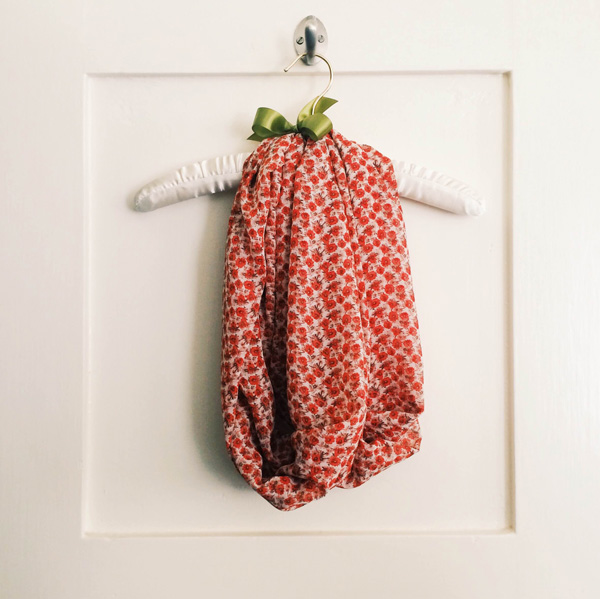 Haha did you notice that I didn't quite get to showing you the actual stitches? I swear this was not intentional (I was just super focused on getting it actually done). And besides, infinity scarves are made to have no stitches show. I might have actually wanted pictures of those first stitches, though :-)  I'll definitely try to document more in the future, no matter how wonky they end up.
Now I know many of you out there are way far ahead of me on this sewing journey, so I would love it if you could give me any pointers you have learned along the way that could really help a beginner out. If you are a beginner like me, I'd love to hear from you too! We can totally be in this together. I'll be posting more of my sewing adventures and resources I stumble upon here on the blog, so feel free to check back for those in the future!